If How You Earn Returns Matter
If you had been looking at the last one year's equity returns chart, Tata Ethical may be one of the funds that attracted your attention.  Being a fund that is Shariah compliant, the fund's portfolio remained insulated from the severe volatility faced by the banking sector, as Shariah funds do not take exposure to the finance space. With a return of 7.7% in the last one year, the fund was possibly among a handful of equity funds that delivered positive returns despite the market rout.
The Fund
Tata Ethical is a Shariah compliant fund. That means the fund follows the principle of Islam when investing in stocks. It cannot therefore invest in sectors categorized as morally deficient, such as tobacco, alcohol, gambling and lottery, and sectors that deal with interest-bearing securities.
Tata Ethical will therefore not invest in companies with stakes in tobacco or liquor, select consumer goods, and banking and finance.
That leaves it with sectors such as auto, oil and gas, metals, petrochemicals, cement, capital goods, engineering, infrastructure, power and textiles. Even within this space, the fund may consciously avoid companies with high debt.
Suitability
Tata Ethical adopted the Shariah principle of investing only 2 years ago. Until then, it was a diversified equity fund under the name 'Tata Select Equity'. That means the fund's track record under its new avatar is yet to be sufficiently tested.
A long track record is paramount to testing this fund given that it cannot take exposure to the banking space. Banking and financial service sectors account for a chunk of all key indices (besides the fact that the banking sector is a long-term outperformer) and non-exposure to the sector in the long run can make it difficult for a fund to outperform broad markets.
The fund is therefore an option only for investors who wish to adopt Shariah investing, or those who strongly feel how they earn returns matters as much as how much returns they earn. Such investors may take the SIP route and keep track of the fund's performance against its benchmark. Comparison with diversified equity funds may not be appropriate to assess the fund's calibre.
Performance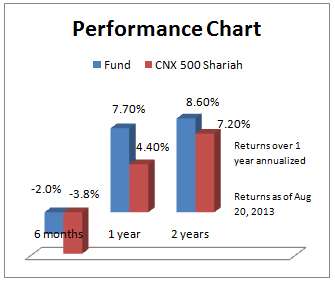 Given that Tata Ethical has only a 2-year record after it became Shariah compliant, we have restricted to highlighting its record post its changed strategy. The fund delivered 8.6% annually in the last 2 years, higher than the 7.2% annual return of its index – the CNX 500 Shariah. Broad benchmark indices delivered marginally lower than that.
While it is true that the fund outperformed diversified equity funds over this period, we took the CNX 500 Shariah index to see if it beat funds over a 3-year period (We did not compare Tata Ethical's 3-year return as the fund did not follow shariah principle 3 years ago).
Data suggests that while Tata Ethical did outperform the category average by about 5 percentage points, established large-cap funds such as ICICI Pru Focused Bluechip, as well as opportunity funds such as UTI Opportunities managed better returns.
That perhaps is some evidence to the limitation of not having key sectors such as banking in a portfolio.
Tata Ethical is among the top five funds in the one-year diversified equity fund returns chart. With a return of 7.7% over the last 1 year, it comfortably beat its benchmark return of 4.4%. The few others that managed to beat it did so either by holding higher cash or using derivatives to a limited extent.
While Tata Ethical too, held over 10% in cash as of July, it largely avoided the bear attack in 2013 merely by staying away from the banking space. Other diversified funds can ill-afford to do this, as banking forms a chunk of any index.
Taurus Ethical is the only peer for Tata Ethical in the Indian mutual fund universe at present; the other one being an ETF (Goldman Sachs Shariah BeES). Tata Ethical comfortably outperformed both its peers.
Portfolio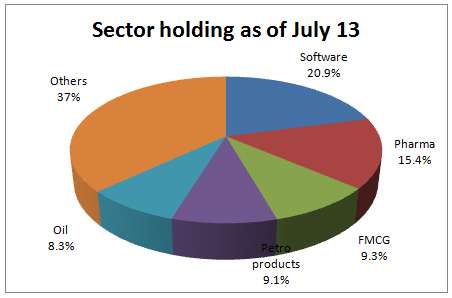 Tata Ethical has over a fifth of its holding in its top sector – IT, evidently increasing exposure to this sector with the advent of a depreciating rupee (against the dollar). The IT sector was its second top holding a year ago, with exposure limited to about 14% then. The fund considerably reduced exposure to the auto ancillary space, which was among the top 3 sectors a year ago. This move proved to be right what with the auto space reeling under a slowdown.
The fund took selective exposure to consumer goods stocks such as Emami, Dabur India, Agro Tech Foods and P&G Hygiene, ensuring that such companies are mostly in Shariah-compliant businesses.
Tata Ethical has about a fourth of its assets in mid-cap stocks with market capitalization of less than Rs. 10,000 crore. Info Edge, KPIT Cummins and Zydus Wellness are some of the interesting picks.
The fund is managed by Pradeep Gokhale.
[fbcomments]